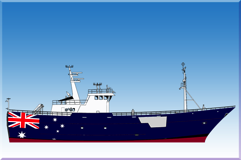 FLEET DESCRIPTION 
The Pelamis Group is building a state of the art commercial fleet, comprising Ultra Low Temperature Long-line and Purseseiner Fishing Vessels and Refrigerated Cargo Ships.
ULT Long-liners are equipped as specialist "Sashimi" vessels, capable of catching, processing, freezing and storing fish for the highly lucrative Japanese market. Perseiner Vessels are designed for efficient capture and freezing of smaller species such as Skipjack Tuna, for supply to the high demand tuna canning market.
All vessels are built to International Class (Survey), and covered by full international MARPOL and ISM conventions and regulations, conforming with all Australian and international requirements.