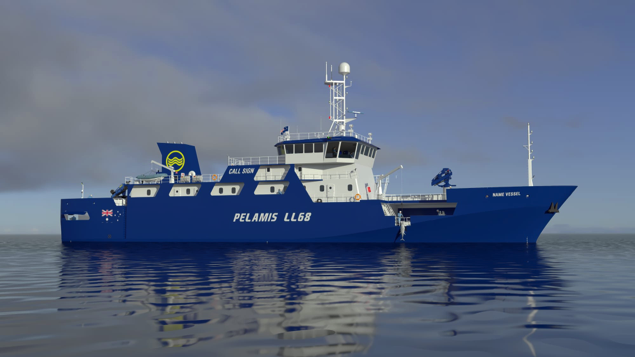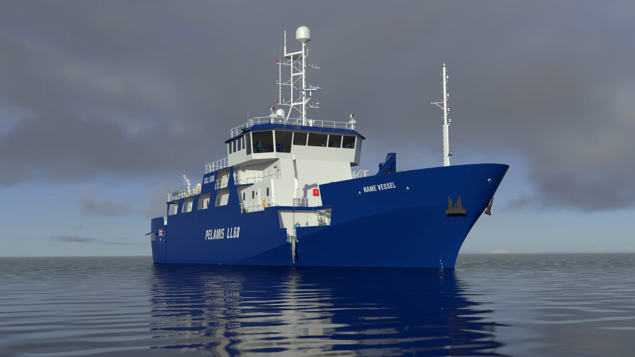 TECHNICAL SPECIFICATION
FOR THE BUILDING OF A FISHING VESSEL WITH 68.50m
PELAMIS GROUP AUSTRALIA
YARD'S REF: 2022OCN0135 LL70 PELAMIS-Australia
1.1 OVERALL DESCRIPTION.
This document aims to set the general outlines of a Fishing Vessel intended for ocean-going operation, which is to be designed and built to operate in Australian Waters and the Pacific Ocean.
The main duties of the vessel are going to be the commercial capture and processing of tuna. She is going to use surface long-lining fishing gear and she is going to be able to freeze the catch to ultra-low temperatures.
Her layout is shown on the General Arrangement Drawing "Tuna Long Liner_LL68_GA_V10".
The vessel is going to be powered by a diesel-electric propulsion system, driving two shaft lines with fixed-pitch propellers. Three gensets are going to provide shared electric power for propulsion, bow thruster, steering, ancillaries, and the rest of the equipment installed on board.
Her hull will have a bulbous bow and a transom stern. The shaft lines will be supported by "A" brackets, there will be a transverse tunnel for a bow thruster and the rudders will be spade-type.
The engine room will take up the stern, and the fish-hold will be located forward. There will be two continuous decks from bow to stern. The main deck (Deck-3) will provide space for the freezers and the fishing machinery, whereas the upper deck (Dk-4) will house the crew's quarters. Above that last one, an intermediate deck (Dk-5) will provide space for the emergency generator and HVAC equipment. Deck-6 is the bridge deck, which will have a forwarded position to let better surveillance over the hauling area.
1.2 MAIN DIMENSIONS AND CAPACITIES
Her dimensions and capacities will be:
Length Overall:                           68.50 m
Beam Moulded:                           11.50 m
Max. Draught:                              ab. 5.00 m
Compliment:                                35 P.
Fuel tanks:                                  ab. 475m³
Fresh Water Tanks:                     ab.30m³
Hold Volume                               ab. 700m³
Frozen cargo                               ab. 450T
Propulsive Power:                       2400kW (3260H.P.m)
Gross Tonnage:                           >1500 GT
Deadweight                                 ab. 750 Ton
Speed on Sea trails:                     about 14.8 knots
Speed on Service:                       14 knots.
1.4 SCOPE OF SUPPLY
The ship is going to be delivered to the Owner complete; after all her systems and machinery were installed and tested; with no faults and in seaworthy condition; with all the required Certificates issued.
Items specified more than once in this specification are to be supplied only once. In the event of discrepancies between the corresponding drawing and this specification, this specification will rule.
The shipyard will provide lube oil and hydraulic oil for the initial start-up and commissioning of the machinery, and the needed fuel oil to accomplish the harbour and sea trials.
155 - SPECIAL TEST/TRIAL
The vessel will be subjected to speed and consumption trials along the sea trials.
Refrigeration and freezing tests will be carried out in harbour.
Speed trials are going to be performed with the vessel loaded to ab. 3.90m draught, and all three main gensets running. These trials are going to comprise two series of 2 double-runs (single runs on opposite course each other); at 100 per cent and 85 per cent of the maximum shaft propulsion power. Each run will be over a distance of at least 2 nautical miles.
On these conditions, the expected average speed on a double run at 100% of power should be about 14.8 knots, which would lead to a service speed of 14 knots.
For distance measurements an accurate system of location e.g. a DGPS system will be used.
The shaft power will be measured by a strain gauge torque-meter.
If satisfactory trial conditions cannot be obtained, the Owner and the Builder can agree on conducting the trials despite the conditions and having the trial results corrected.
Fuel consumption will be measured at the maximum attainable load on the AC generators during sea trials. For this test it will be measured the fuel flow towards the diesel generators and subtracted the fuel return to the day tanks. The accuracy of the measurement will be that of the flow-meters used on board.
A sample of the fuel will be sent to a laboratory to assess the heat value and then to carry out the corrected calculations to be alike the ISO conditions.
6 - Machinery main components
62 – Propulsion Machinery
625 – Propulsion e-motors
The type of power-propulsion for this vessel is a Diesel-Electric System.
Both shaft lines are going to be driven by electric motors, feed from a 400V-50Hz grid.
Although the system still has to be deeper defined, at the beginning, the installation will comprise two (2) Main Propulsion Motors with the following features:
• Squirrel cage induction motors, produced by ABB or equivalent.
• Power                           about 1200kW (each).
• Voltage                         3-phase 400V.
• Frequency                    60Hz (after the drives)
• Nominal speed              1200rpm
• Duty Type                     S1
• Cooling                         water cooled
• Class                            Bureau Veritas
63 – Propellers and Transmission
631 - Fixed Pitch Propellers
The main propellers are going to be fixed pitch units, with a diameter about 2500mm and installed without nozzle. The maximum turning speed will be approx. from 240 to 270 rpm.
Final dimensions and details to be defined.
637 - Main reduction gears w/thrust bearings & couplings
Propulsion shaft lines to be defined. They will comprise one reduction gear for each tail shaft, made by Wärtsilä or equivalent and with the following preliminary features:
• Reduction non-reversing machines without clutches.
• Vertical offset gearboxes.
• Input power 1200kW
• Input speed 1200rpm
• Gear ratio, about 4…5:1
Forward and reverse run of the propellers, will be produced by the propulsion e-motors which can be reversed, and can run at different speeds from zero up to their nominal rpm.
The reduction gears will be fitted with main and stand-by lube oil pumps, oil cooler and the rest of standard supply.
Shaft bearings, thrust bearings, and couplings will be designed and supplied by Wärtsilä or other specialised company.
65 - Motor aggregates for main electric power production
651 – Main Gensets
Electric power production on board is going to be provided by three (3) main gensets. These units have as prime mover a diesel engine running on marine gasoil (MGO).
Wärtsilä 6L20 engines are pre-selected and their features would be as follows.
• MCR 1200kW (per engine).
• Speed 1000 rpm.
• Configuration, in-line, 6-cylinder.
• Type, four-stroke, turbocharged and inter cooled diesel engine.
• Bore x stroke 200x280mm (ab. 52.8 litres).
• Pneumatic starter.
• One injection pump per cylinder.
• NOx Emissions, Tier II.
The AC generators driven by those Wärtsilä engines will be as follows.
Brushless 3-phase synchronous alternators with automatic voltage regulator for marine installation.          See also 861 - (Generators/alternators)