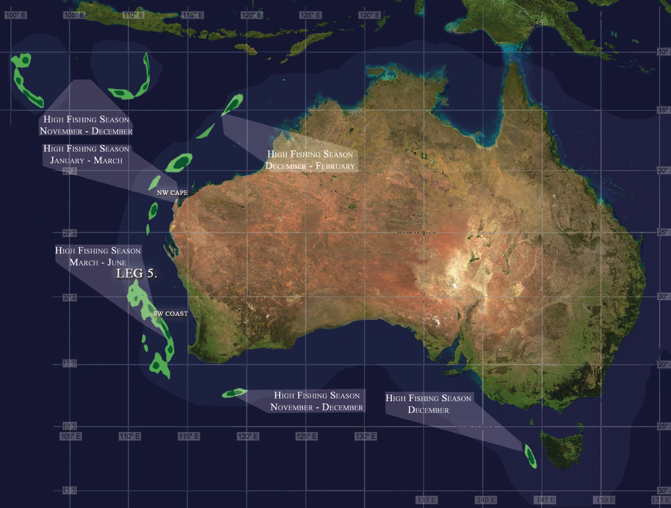 High season:          NOVEMBER TO DECEMBER
Target species:       BIGEYE TUNA
By-catch:               BROADBILL / YELLOWFIN
High season:          JANUARY TO MARCH
Target species:       YELLOWFIN TUNA
By-catch:               BROADBILL / BIGEYE
High season:          MARCH TO JUNE
Target species:       YELLOWFIN / BIGEYE 
By-catch:               BROADBILL 
High season:          NOVEMBER TO DECEMBER
Target species:       BIGEYE TUNA
By-catch:               NIL
High season:          NOVEMBER TO DECEMBER
Target species:       SOUTHERN BLUEFIN TUNA
By-catch:               NIL
VOYAGES START AND END AT SINGAPORE
There are several important legal and operational reasons that each voyage starts from Singapore. In practice this means starting from the Eastern Anchorage, which is outside of Singapore, and does not require entry into Singapore itself. The most direct and "safest" route to the fishing grounds is via the Malacca Straights, then directly onto targeted fishing ground.
PORTS
The Port of Broome  is a Port of call in case of an emergency.
The Port of Christmas Island is a Port of call in case of an emergency.
The Port of Cocos (Keeling) Island is a re-provisioning and catch discharge Port. (AFMA approved)
The Port of Port Adelaide is a Port of call in case of an emegency.
BUNKERING
Supply Location #1: Singapore @ Jurong Fishery Port/Jurong Island
Product: MGO (DMA)
Delivery Method: Ex. Barge
Supply Location #2: Cocos Island
Product: MGO (DMA)
Delivery Method: Ex. Pipeline
Supply Location #3: Offshore Eastern Indian Ocean
Product: MGO (DMA)
Delivery Method: Stern discharge from high-seas tanker
TUNA FISHING
Pelamis uses two different fishing methods of Tuna Fishing. These being "Tuna Long-line" and "Tuna Purse-seine" fishing.
The Long-line method is by the use of Pelagic longlines, that are set and retrieved daily using on average 150 kilo-meter of line and 3,500-hooks per set.
The purse-seine method involves surrounding tuna shoals with a net, impounding the fish by pursing the net, and drawing up the catch by hauling the net so that the fish are crowded in the bunt or pocket of the net, and can then be brailed out.
Both fishing methods are conducted on the "high seas" working in the outer limits of the Australian 200-mile economic zone.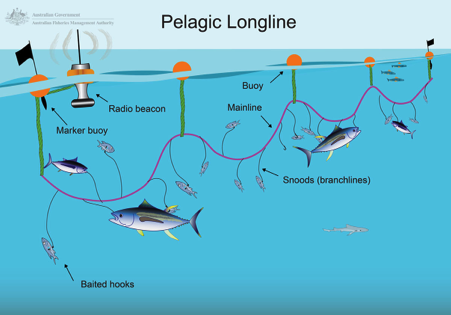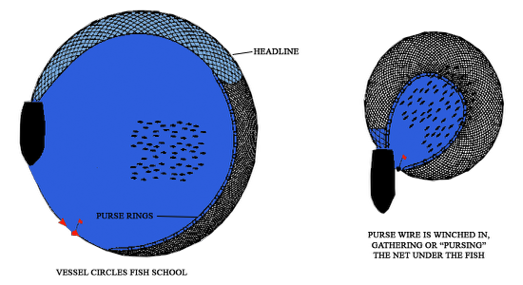 FISHING GROUNDS
The Australian Tuna Fisheries are split into three distinct geographical zones, that align to the west, south and east of Australia. The quota species caught within the western and eastern zones are the same, being Bigeye Tuna, Yellowfin Tuna and Broadbill Swordfish, while the south is predominately Southern Bluefin Tuna.
WTBF    Western Tuna and Billfish
ETBF      Eastern Tuna and Billfish
SBT         Southern Bluefin Tuna
TARGET FISHING AREA
The targeted fishing area is the outer regions of the western zone in the North West, commencing adjacent to Geraldton in the south and heading north along the 150-200 nautical mile edge of the zone to around the 10' South Parallel for the majority of the year, and in November to December the area around the Cocos and Christmas Islands that extend toward the outer limit of the AFZ from a line every point of which is 12 nautical miles from the Australian territorial sea baseline.
TARGET FISH SPECIES
The Catch objective is to target Yellowfin and Bigeye Tuna species with Broadbill swordfish considered a by-catch. All fish are processed by "Gill and Gut" method for snap freezing according to Japan Sashimi standards.
• Yellowfin tuna (Thunnus albacares)
• Bigeye tuna (T. obesus)
• Southern Bluefin Tuna (Thunnus maccoyii)