PELAMIS AUSTRALIA PTY LTD
CONTACT US
PO Box 7336
Adelaide
South Australia 5000
pelamis@pelamisgroup.com
PELAMIS SHIPPING
Pelamis Shipping Limited is a member of the Pelamis Group, based in Hong Kong, that manages and operates shipping and fishing assets. Pelamis Shipping is a ship owner, with an expanding fleet of Ultra Low Temperature Cargo Carriers, Freezer Long-Line Fishing and Purse Seiner Fishing Vessels.
The Refrigerated Carriers are primarily supportive of the Groups fishing activities in the Southern Skipjack Tuna and the Western Tuna Fisheries. Operating at the height of the fishing season regular bi-weekly freight runs from Southern Australia to Thailand, Singapore and Indonesia. While the Fishing vessels are used in the catching of the Groups Tuna Quota.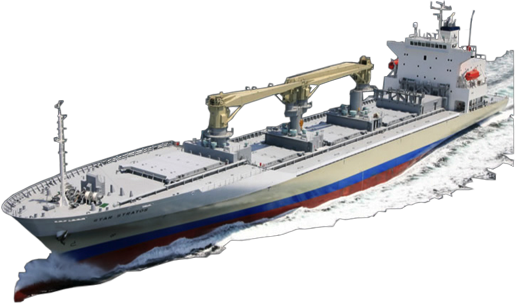 REEFERS
The Refrigerated Carriers are all sister ships of similar design and capacity. They each have the capacity to carry frozen fish at -30'C in bulk or -60'C in deck containers, as well as chilled product palletised, or in deck reefers. Within each hold there are four individually temperature controlled decks, that can be set between -30'C to +15'C according to requirements. 
Specifically, the holds have gratings fitted, and built for high flexibility for the shipment of chilled/frozen cargo of both palletized and loose configuration.
The vessel is fully gratings fitted and is built for a high flexibility for shipment of chilled/frozen cargo of both palletized and loose configuration. The vessel's high square meter space allows for maximum utilization of vessels cubic capacity. The cranes and the hatch design allow for fast and efficient cargo operations. Vessels hatch cover design allows for full weather protection during cargo operations. The ships are also self substained with crane capable of lifting fully loaded containers.
Recirculating seawater holding tanks are to be installed. The tanks are arranged in banks of seven, ("Tank Unit"). Each unit is self contained and isolated from other tank units. Each with its own filters, refrigeration and pumping and control systems. The tank units are designed to have a total holding capacity of 5-ton.